Best Car for an Uber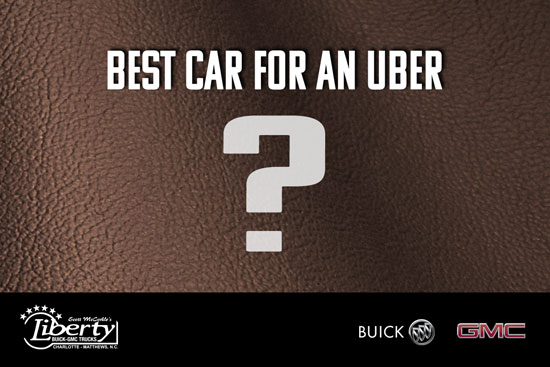 When describing a good or bad Uber ride, it always begins with the car you were picked up in. Sure the driver may have taken a few extra minutes on the pick up, or taken a wrong turn on the way home, but if the car itself is nice we can forgive these faux pas. At Liberty Buick GMC we know Uber riders want high levels of comfort, luxury, and sound. It just so happens we have two brand-new vehicles that perfectly fit the bill.
What We Like in an Uber
Tastes vary, but on the most basic level, things like comfort, luxury, and sound are not difficult to create. That being said, when it comes to Uber rides, higher levels of these three makes for a better experience.
Leather or upholstery, it really doesn't matter. Just as long as the seat itself has plenty of cushion and give and holds you in a nice position, that's what really counts. Legroom is something else to consider. It doesn't matter how comfy that seat is if your legs are scrunched up into your chest. Another thing is the ride itself. It needs to be smooth and soft the entire trip. Sharp turns should feel like fluffy side-hugs. Potholes, nothing but little divots to hardly be noticed.
It doesn't have to be extravagant. Those luxurious items only found in cars with a price tag similar to that of a home mortgage aren't required. It's quality we want as Uber riders, and that simply means entering a car with sturdiness and charm. Solid doors, svelte seating, and dark tones with LED running lights do well to make any passenger feel as though she is taking a proper Uber ride.
Quality sound comes from modern mechanics pumping through nice speakers. There also needs to be plentiful options: radio, CD, and phone connectivity are most common, but just as long as the sound is crisp and clear it usually does not matter what the source is.
We know what we like in an Uber car, and now it's time to look at which makes and models we, at Liberty Buick GMC, recommend.
The all-new 2018 Buick Regal Sportback is a great choice for an Uber driver for more reasons than we can even list.
Let's begin with the high comfort levels in the 2018 Regal Sportback. From the moment you sit inside you can tell something is different. There's just so much room! The hatchback offers extra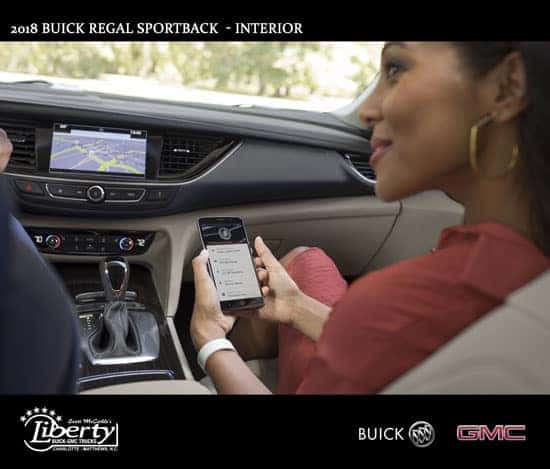 storage spaces, and the length of the car itself offers more than enough legroom from every seat. This makes those trips to the airport with extra baggage no problem. Just set the bigger bags on the floorboards and easily slide the rest in the back. As for the seats themselves, they are much more comfortable than those in your average sedan. At first sit, they are obviously a cut above. The thick material and quality cushion instantly put any passenger at ease. They seem to hold you comfortably in place, all the while allowing the necessary levels of give for optimum comfort.
Next is luxury, and the 2018 Buick Regal Sportback has it in spades. The new Sportback is offered in four trim levels: 1SV, Preferred I, Preferred II, and Essence. All come with varying bells and whistles such as power accessories, keyless ignition, OnStar 4G LTE connectivity, and a Wi-Fi hotspot. There is the option between a 7.0 and 8.0 center touchscreen and allow wheels ranging in size from 17 to 18-inches. To make the 2018 Buick Regal Sportback even more luxurious, Buick has added a Driver Confidence package. This bundle of goodies includes memory for the front seats and mirrors, four-way power lumbar adjustment in the front, heated and auto-dimming driver mirror, LED headlights that level themselves automatically, and a host of luxurious safety features such as:
Adaptive cruise control
Forward collision warning with automatic emergency braking
Active lane control with lane-departure warning
The 2018 Buick Regal Sportback has you covered on quality sound too. With the option for eight premium Bose speakers, sounds are just so much better. Add this to Buick's famous Infotainment center, and you have yourself a nice little setup. This center console allows you access to all your favorite music, turn-by-turn directions, and emergency assistance, a USB port, and plenty more.
With an abundance of features and one of the smoothest rides you will ever experience, the 2018 Buick Regal Sportback is the modern Uber car.
With a price at around $29,000 you can't go wrong with the new 2018 GMC Acadia as an Uber. Though most Uber cars tend to be sedans, this mid-size crossover performs like a high-dollar SUV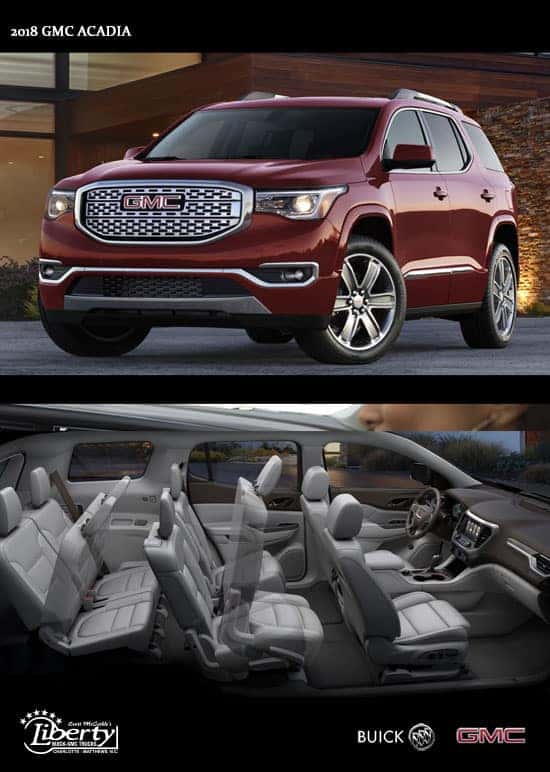 but has the perks of driving a sedan. As a matter of fact, almost every feature specified in the 2018 Buick Regal can be found in the 2018 GMC Acadia as well.
By way of comfort, the 2018 GMC Acadia seems to defy logic. The fact that the mid-size Acadia fits seven passengers is strange, but when you realize all seven can sit comfortably inside it blows your mind. By way of expert design and craftsmanship, GMC has maximized just about every possible angle of space to ensure roominess. Up front, both seats are multi-adjustable. The second row sits back far enough to allow easy access in and out, and it provides extra legroom for passengers. The third row is the smallest, but still allows for comfort and room, especially for children. For Uber purposes, this third row is perfect for throwing luggage, especially when in a hurry. To make the 2018 GMC Acadia even more charming, there are soft-touch materials throughout, and not that cheap, rubbery-feel either. The inside of the new Acadia feels like plush quality that makes you want to ride along for hours.
In the all-new GMC Acadia, luxury and comfort work together. As you experience the high levels of comfort in the Acadia, you begin to notice just how luxurious what you are riding in is. Take, for instance, the fact that there are a total of six different trim levels. Each of these offers varying aspects of comfort, but all performs at a level of luxury that is just not found in SUVs at this price.
There's the rear-seat detection feature, which is designed to keep you aware of a rear passenger or that you have recently opened a rear door. Then there is the 7.0-inch Infotainment system that has enough connectivity and output features to make any passenger happy. This system gives you up-to-date weather and traffic alerts, plays your favorite music and podcasts, even makes calls and reminds you of upcoming meetings. It's like having a secretary right there in the dash. There is also the classy look of the 2018 Acadia. Its rolling sides and ready stance give a capable yet sophisticated feel, exactly what an Uber ride should be.
The sound quality in the 2018 GMC Acadia matches that of the Buick Regal. The only difference is there is more room for the sound to expand in the Acadia. The Infotainment system previously mentioned also comes with Apple CarPlay and Android Auto, appealing to just about everyone.
If you are thinking of becoming an Uber driver, or if you feel the need to be a bit more particular in the type of Uber you ride in, consider both the 2018 Buick Regal Sportback and the 2018 GMC Acadia. Both pack a punch in all three departments of comfort, luxury, and sound. Come in to Liberty Buick GMC today and find the best deal on one of the best cars for Ubering.