Beat the Heat Specials and No-Touch Service at Liberty Buick GMC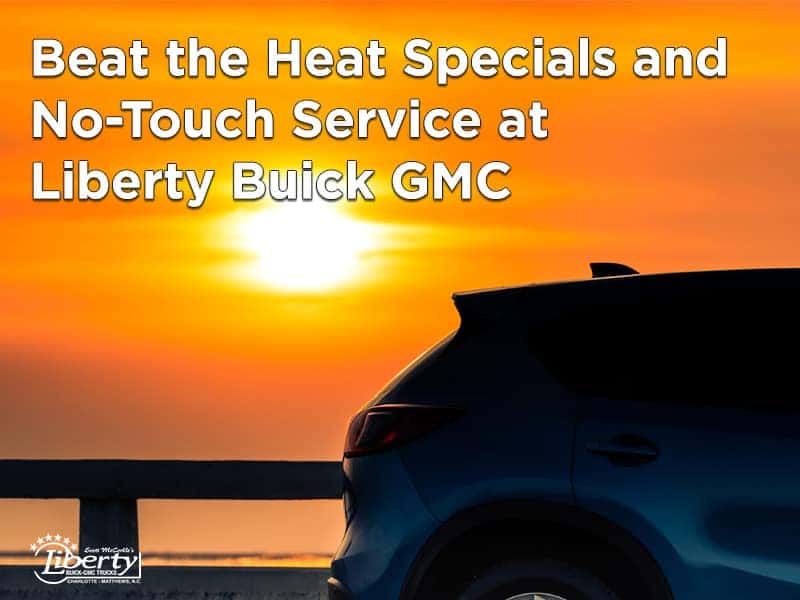 It's important to make sure your vehicle is ready for the hot summer months. These extreme temperatures, especially here in the South, can wreak havoc on your car in all sorts of ways. This is why the service department at Liberty Buick GMC is running summer specials with No-Touch service.
When temperatures reach the 90s or above, it's inevitable your vehicle will be affected. Everything from tires down to windshield wipers. The summer sun can warp, loosen, even melt these softer materials and it can fade or crack the harder pieces of your car. Some of these things you can check on your own. Engine coolant, oil, windshield wiper fluid, and tire pressure are all pretty easy and quick to check. And you should every few weeks, especially the engine coolant and oil. Low levels of either one of these can cause major damage to your car. 
The worst-case scenario is that your car dies, right when you need it, and you have to get it towed. This can be pricy. A new battery can run a few hundred dollars, and towing can be even more depending on how far away you are from the service department. So what can you do? On those really hot days pay extra attention to the sound of your car as you start it. Does it seem to take a little longer to turn over? Does it seem sluggish? This could be your first warning sign that the battery liquid is low, and it would be a good idea to head straight over to our service department to have it taken care of.
One thing to keep in mind is that sometimes it is not the battery that is dying or dead. It could be the alternator. This device charges your battery as the car runs, and if it is damaged or ruined it can be even more expensive than a bad battery. Some warning signs your alternator is fading? Dim lights, trouble starting, strange smells, odd sounds, and warning lights.
But what about the more technical parts of your vehicle? Things like tire rotation, tire alignment, battery testing, brake check, and a complete vehicle inspection. These tend to be what go wrong during the summer, mostly because they are not easy to check. That is, of course, unless you take your vehicle to a reliable service provider like Liberty Buick GMC. Here you can have a professional technician complete a thorough search of your car to make sure you are ready for summer.
Here are just a few of the specials running this summer at Liberty's service department:
TIRE PRICE MATCH GUARANTEE: Provide us with a better price at the time of purchase and we'll match it
6-QT DEXOS1 OIL CHANGE Package: 6-Quart ACDelco dexos1 Full Synthetic Oil Change & Tire Rotation for $79.95
8-QT DEXOS1 OIL CHANGE Package: 8-Quart ACDelco dexos1 Full Synthetic Oil Change & Tire Rotation for $79.95
PROFESSIONAL BRAKE PADS: Most ACDelco Professional Front Brake Pads Installed for $164.95
ACDELCO ADVANTAGE CAR ROTORS: ACDelco Advantage Front Brake Rotors installed on most cars & small SUVs for $169.95
ACDELCO ADVANTAGE TRUCK ROTORS: ACDelco Advantage Front Brake Rotors installed on most full-size trucks & SUVs for $209.95
And these are not all. It's just not worth taking the risk this summer, especially when Liberty Buick GMC's service department is running specials with prices this good. Be sure and schedule your appointment soon, and stay safe on the road this summer. 
What sort of things will your service technician look for? Anything that is not performing properly, plus we will look for things that could go wrong in the near future. Intricate pieces like engine belts, hoses, and plugs. These all need replacing every so often, and if you wait until they completely malfunction you could be left stranded. And even worse, they could cause damage to other parts of your engine. 
The service department at Liberty Buick GMC wants to keep your vehicle running as it should. Whether you need regular service and maintenance, a special part, repair work, or just someone to find and fix that clunky noise that won't go away, Liberty's team can take care of you. Call or set up an appointment today and be sure to ask about our No-Touch Service.