Batting for 1,000
With 882 Google reviews and a rating of 4.8 out of 5 stars, customers have a lot to say about Liberty Buick GMC. We pay attention to these reviews because Google ratings are probably the most transparent in the industry.  It's not easy to fake a Google Review and we help safe-guard this process by monitoring every review for authenticity.
We understand that adherence to the Google Guidelines creates transparency that illuminates our bad reviews, as well as, our good ones.  We're not perfect.  Every company drops the ball now and then, but we want people to know that we are paying attention to those imperfections and are constantly trying to improve our services. Often times, what our customers write about us is the most transparent form of information, and a great way to get a glimpse into how our dealership operates.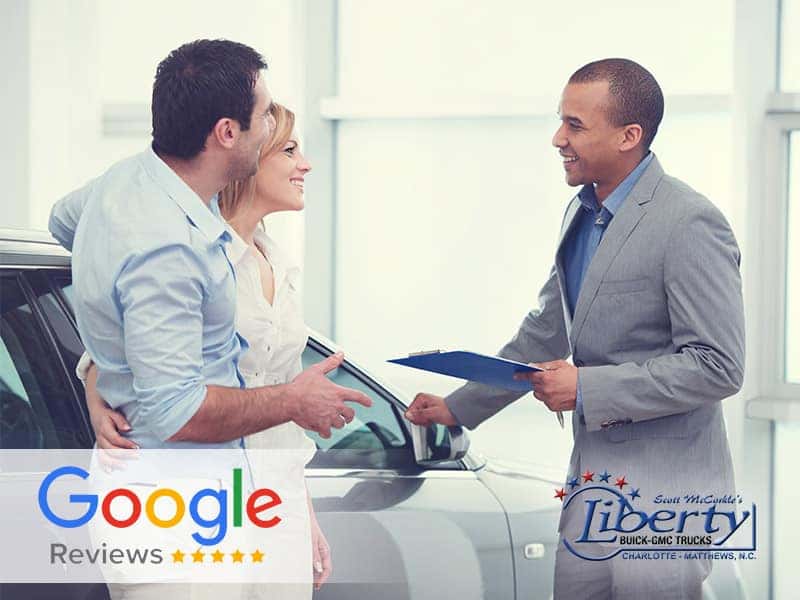 For example, have a look at what one reviewer had to say about her recent experience at Liberty:
"Had such a great experience at Liberty Buick GMC last week. Justin was really helpful during my shopping experience and had a lot of patience while looking at several vehicles on the lot! There wasn't any pressure to buy, unlike most car dealerships. This company really values their customers and their employees really seem to care about finding the right vehicle for you instead of it just being another purchase for them! Again, thanks so much, Justin! We will definitely be back."
"Helpful," "patient," "wasn't any pressure," "values their customers," these are some impressive pieces of information, ones we like to hear. Nice work Justin!
Here's another from a very happy customer:
"Where do we start?! Ben was AMAZING to work with! He respected what we wanted and what we were looking for and made it happen! His customer service was impeccable and attitude was great!" Alright, Ben!
What both of these reviews—as well as hundreds of others—represent is that we care for our customers. In fact, we love working with them, providing excellent service by always placing their needs first. Above any sale, any special offer, what matters most are the wants and needs of every Liberty customer.
Liberty Buick GMC loves its customers, and it shows.