2022 Hummer EV Edition 1: The Surprise Hit of the Future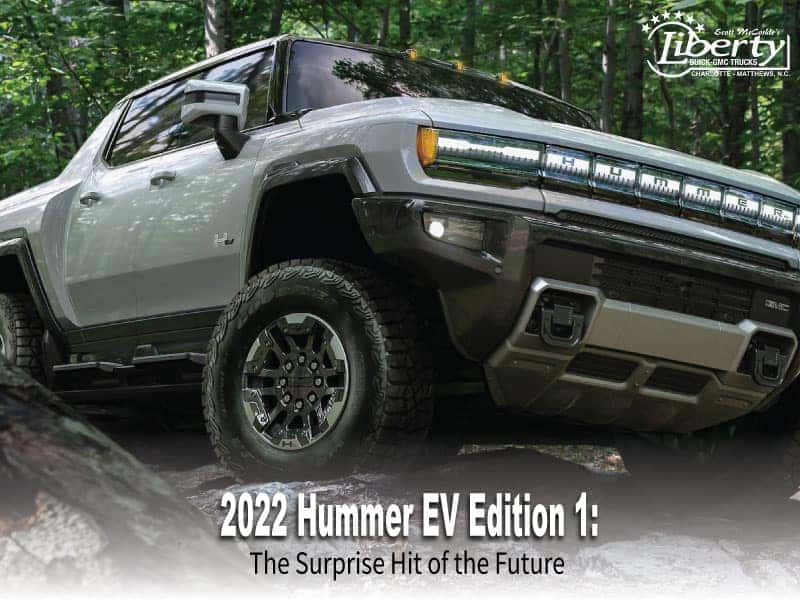 The all-new Hummer EV pickup truck has not yet been released, but it sure is making waves. With an inviting, futuristic look, the 2022 Hummer EV could come out as the biggest and baddest all-electric vehicle envisioned. At Liberty Buick GMC, we have all the information you need about the futuristic Hummer and we know our customers are going to be excited at what this massively cool driving machine can do.  
The 2022 Hummer EV has a similar feel to Tesla's Cybertruck (not yet released), but with less of the dark, dystopian look. Car companies working towards all-electric vehicles tend to view the future of automobiles with-ultra sharp edges, dark gray coloring, and large, wide stances. The Hummer EV is definitely large with a wide wheelbase, but its look is not as off-putting as some of the other EVs. GM's futuristic pickup truck connotes an excited feeling with its soft curves rather than sharp edges, and its overall size and shape provide a sporty-cool look.  
The Details  
GM's president, Mark Reuss, recently revealed more information on the Hummer EV, which is set to come out in 2022. Here are a few things we learned: 
The Hummer EV will be powered by GM's own Ultium batteries and Ultium Drive. These drive units give the vehicle off-road capabilities, in terms of power, which is a big part of the new Hummer's lure—it's tough and it likes to get dirty.  

When creating the Hummer EV, a strong focus was on the architecture of the machine. It has a wide stance so it can handle uneven, off-road conditions, but to make it more inviting, its build is rounded and smooth, and the white exterior shows its intent is for exhilaration and relaxation all at once. Obviously (in the literal sense) this driving machine is meant to do more than stay between the lines, but in a Jay Gatsby sort of way.  

Every Hummer EV Edition 1 will be "identically appointed" and "fully equipped," according to GM. All models will feature a white exterior and Lunar Horizon inside, along with special stitching and other undisclosed features.  

GM expressed they had every intention of creating something that looked like the future when designing the Hummer EV. The vehicle has an "H" design distinctively placed inside and out, and it has a host of advanced technology such as hands-free driving and the "crab walk," which is a setting that allows the wheels to turn diagonally so the Hummer can quickly and easily get in and out of tight spaces.  

Even though it is big, the Hummer EV truck can move. Reports state it can go from 0-60 miles-per-hour in three seconds. It also has one of the fastest charging systems out so most of your time is spent on the road—or off the road! 
Price and Availability  
Even though the 2022 Hummer EV's price is set at $112,595 (yes, you read that correctly), a bit pricy for the every-day driver, the cost does account for destination charges and GM has big plans for unleashing additional trim levels—with lower price tags—in the future.  
But for now, the three-figure price stands. However, the Hummer EV Edition 1 that is slated to come out in 2022 does include: 
-Super Cruise capability and three years of service 
-Ultra Vision with High Definition Surround Vision 
-A Digital Key 
-35-inch specialty tires 
-An Infinity Roof 
-Power rear drop glass 
-Six-function MultiPro Tailgate 
There's plenty more to the Hummer EV Edition 1, but if you want one you're going to have to wait since they have already sold out. That's right, the 2022 Hummer truck sold out in just 10 minutes upon its presale. It's not clear how many models have sold, or how long it will take for the next batch of models to be ready for sale, but one thing is clear: they're a hit! 
Next Steps for the Hummer EV 
Presently, the new Hummer EVs are being rigorously tested and evaluated before GM engineers take them to northern Michigan to test out their winter endurance in the coming months. It's clear GM is holding nothing back with its new baby.  
As for GM, the car company can seem to do no wrong. Looking at the company's sales—with the impressive quick sell of the Hummer EV Edition 1 aside—they continue to go up. What that means for those of us excited about the future of automobiles is we can expect to see a new lineup of all-electric vehicles from GM (hopefully) soon. 
Until then, keep an eye out for new photos and news on the 2022 Hummer EV.