2022 GMC Sierra: The Truck With Options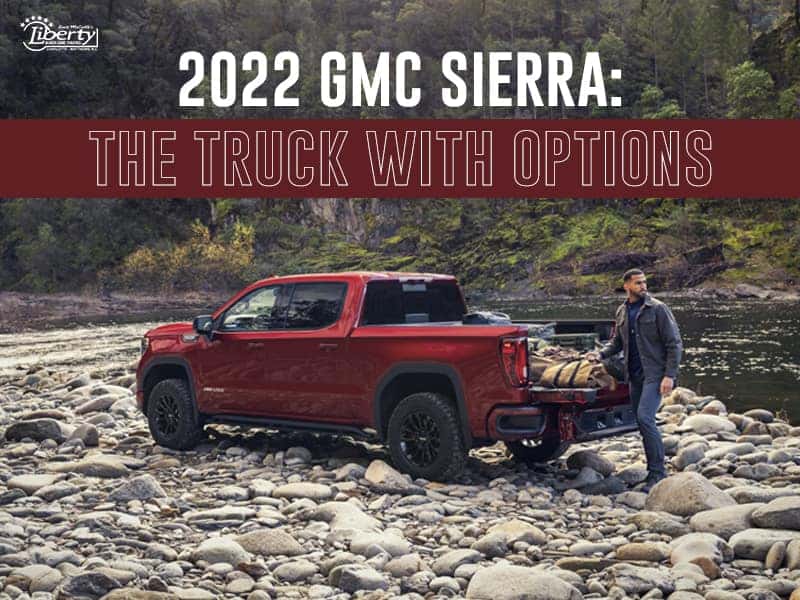 The 2022 GMC Sierra Truck introduced a redesign to the long-running truck model. The Sierra has been in production since 1962, with a brief hiatus beginning in 1999 and a return in 2003. That means there have been a ton of Sierra iterations over the years. However, the 2022 redesign and trim options introduced one of the most unique selections of choice between trim designs ever seen for the Sierra.
When talking about options, it's also important to talk about dealerships. Liberty Buick GMC has been providing Matthews and the surrounding area with outstanding options, stock, and customer service. While you may have difficulty picking between the trim options for the Sierra, the best choice in dealers is clearer, so check out Liberty Buick GMC's inventory today.
The Two Notable Trims
GMC has been attempting to cement the Sierra as both a top competitor in off-road capability and as a world-class luxury truck. Their solution to two vastly different goals was simple — make the Sierra capable of both. An already popular model is being improved and honed to meet those two objectives, and the 2022 Sierra has successfully delivered.
The Trim Centered Around Luxury: Denali Ultimate
The trim ready to provide a world-class luxury vehicle is the Denali Ultimate.
With a 420-hp 6.2-liter V-8, 10-speed automatic transmission, and selectable four-wheel drive, the build may seem similar to previous versions of the Denali. However, in terms of interior, technology, and comfort, the Denali has made near-unprecedented strides.
Coming with a Super Cruise hands-free driving tech, the truck is capable of driving itself. Ready to handle interstates, lane changes, and turns, a hands-free ride speaks to luxury.
Regarding the interior, the Denali Ultimate has made leaps in comfort and design. The new dash is wider and hosts larger displays, gauges, and a 13.4-inch touch screen display. There's been a huge all-around increase in space that makes sure that you can have a truck full while not feeling cramped. Other bells-and-whistles, like a powered sunroof, contribute to the emphasis on luxury that the Denali Ultimate was designed for.
Simply put, the Ultimate trim is unrivaled if you're looking for luxury in a reliable truck. And while luxury is the focus, the Denali Ultimate is still well equipped to handle whatever you could throw at it in day-to-day use and hauling. If you're looking to get your hands on GMC's most luxurious truck to ever hit the market, you can view a model today at Liberty Buick GMC.
A Trim Ready For Any Off-Road Adventure: AT4X
While the AT4X has fewer of the luxury features, like the supercruise hands-free driving, and some lack of aesthetic choices, like the chrome that accompanies the Ultimate's interior, its off-roading capability is well worth the trade-off in grandeur.
The AT4X has been well-tested and has shown it's more than ready to handle any terrain. Four-wheel drive, a powerful engine, and electronic locking differentials literally allow the vehicle to climb over any obstacle in its way. And unlike most modern 4WDs the Sierra has both front and rear locking differentials.
A leap forward in camera technology has created camera views and safety features that let the vehicle see obstacles and navigate any terrain, no matter how many things stand in your way. This is the readiest off-road, powerful version of a pickup that GMC has ever produced, and it's also currently available at Liberty Buick GMC.
Your Sierra as A Mobile Office
One of the most impactful benefits of having a brand-new Sierra is the comfort you have away from home. While the Sierra Ultimate offers more comfort on the inside, the AT4 still has the space, comfort, and features that rival the interior of many trucks on the market.
People who spend time on the road for work, from contracting, construction, or any other job, find themselves doing a substantial amount of work from their vehicles.
If you're prone to being on the road but looking to get business done while out and about, either model of the Sierra is right for you.
With a robust set of electronic features, like a navigation touchpad, plentiful places for chargers and device integration, and enough interior space to bring out a laptop comfortably, you'll be hesitant to hop out of your truck.
Here are some other tips, add-ons, and investments you can make to further help convert your Sierra into a mobile home office.
Invest In A Power Inverter —
A power inverter makes use of the many plug-ins and powerful batteries that come with both versions of the GMC Sierra. The inverter gives you two AC outlets that will work just as well as those at home. You'll be able to power a laptop, phone charger, and anything else you may need, all while on the road.
Setting Up A Desk Or Workstation —
If you're planning on powering a laptop, you'll need somewhere to work from. Front seat desks are readily available, providing you have the space, which both versions of the Sierra have. You'll be able to place your laptop, sign or work on papers, and everything else you would need to do on a traditional desk.
A Way To Stay Connected —
While most who are setting up a mobile office would need to invest in a device to create a wi-fi hotspot, those with the new Sierra don't need to worry. The Ultimate trim comes with on-star 4G LTE, while other versions can have the addition added for a price. You'll be well connected and ready to take care of whatever business you may have.
Seat Organizer —
Seat organizers go over the back of your seat and store all the supplies and materials you may need in a mobile office. Papers, and pens, among other things, will all tuck away nicely. It eliminates clutter in your truck cab and makes it easy to find whatever you need in a pinch.
A Hot Coffee To Stay Focused —
With any amount of business or focus, sometimes a caffeinated boost is enough to keep you going. Grab a hot coffee and store it in one of the Sierra's many cup holders as a way to keep at it and stay comfortable.
Whatever the case, add-ons can only help improve the potential of the truck cab. If you're in a truck with limited room and technology, no amount of add-ons can fully prepare your home office. The right foundation and vehicle is the necessary first step and GMC's Sierra is the perfect truck for just that.
Pricing and Financing
The AT4X starts at $77,395 and the Denali Ultimate has a starting price of $82,795. While that's an increase from some of the most affordable previous models, the price increase comes with a huge leap in quality. Liberty Buick GMC has a great financing team and runs frequent specials, so you'll be able to have the Sierra of your dreams for a competitive price.
Liberty Buick GMC
Liberty Buick GMC is the dealership ready to provide you with your new Sierra. While the two trims provide options, shortages in stock and qualified dealerships can slash your options in half. That's a problem you won't need to worry about with Liberty Buick. With a huge team and a track record of excellence serving the Matthews area, you'll have the truck necessary to start off-roading, living a life of luxury, or building your mobile office. So, schedule an appointment today to see the new Sierras for yourself!