2022 GMC Sierra 1500: Hands-Free Towing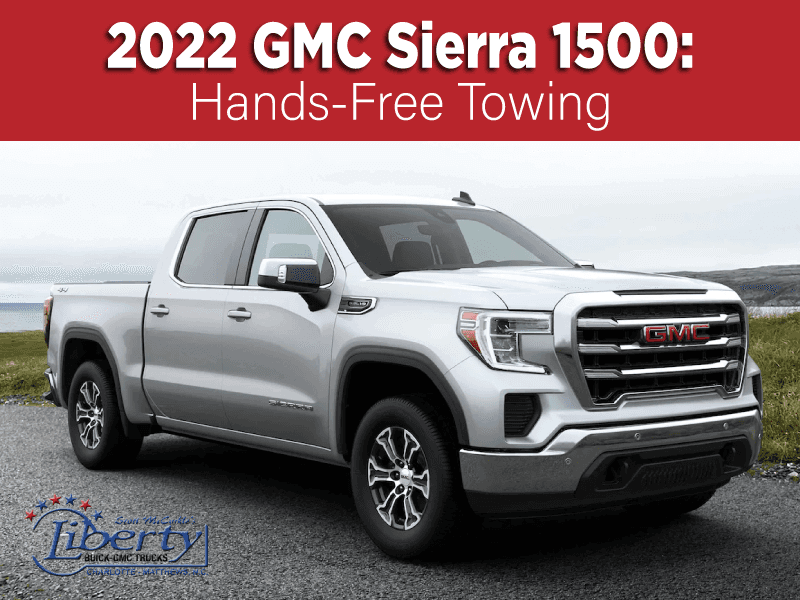 For any truck driver, towing capability is a huge deal. So when GMC mentioned the possibility of a Sierra 1500 with hands-free towing, we came to attention. Hands-free?! It's true, 2022 will bring about GMC's new, Super-Cruise truck of the future and we can't wait to get our hands on…well, off of it.
2022 is going to be a big year for the Sierra 1500. Actually, every year is a big year in the arena of GMC trucks. These are the top-of-the-line, luxuriously designed vehicles that have proven themselves time after time, working their way to the top. Every year, the Sierra (in all of its iterations) competes with the Ford F-150, the Nissan Titan, the Chevy Silverado, and Toyota Tundra. But the Sierra does not get intimidated easily, and the new Super Cruise version of the 1500 is sure to take things to the next level in the world of pickup trucks.
Though not all the details are out just yet, what we do know is the 2022 Sierra 1500 will now come with Super Cruise, the first hands-free driving experience that is compatible with main roads. This impressive new feature incorporates an innovative technology that allows for a much different driving experience. Just imagine changing lanes, parking, and even towing without even touching the steering wheel. It's a wild thought, and it's also a reality.
How it Works
It's pretty straightforward, really. When you are sitting in the new Sierra getting ready to tow a heavy load, the truck will alert you when it is ready to take over. The driver simply presses the Super Cruise button (conveniently placed on the steering wheel) and a green light appears, letting you know it's go time. At this point, the driver lets go of the wheel and the truck does the rest: rounds curves, drives straight, hits 70 miles-per-hour without hesitation, and it even has the internal intellect to estimate your trailer's weight (it does this through high-level calculations of throttle position compared to the speed of the truck, which allows it to adjust for distance and weight). The truck will also adjust to high winds pushing against the trailer by slowing down or adjusting its position so there is no sway as it drives.
Another cool aspect of Super Cruise is that it can change lanes on demand by tapping the turn signal left or right. The truck will be able to sense whether it is safe or not to switch lanes, and once all is clear, it slowly and safely moves on over. But that's not all! You can also set the Super Cruise to change lanes on its own, without the prompting of the driver. Using sensors, the truck can tell how fast the vehicle is moving in front of you, and if you are moving faster than it, the truck will either slow down or change lanes—whichever is the safer option. This capability of thinking for itself is what we call Level 3 Autonomy, something new and incredibly awesome.
The Always-Impressive Sierra 1500
The all-new GMC Sierra 1500 is pretty impressive with its innovative, self-driving features, but let's be honest, the 1500 has been an impressive truck since its inception.
The time spent designing and detailing the Sierra is evident. A true sign a vehicle has been made with purpose and precision is not just seen in what is present, it also depends on what is absent. The Sierra has taken the "less is more" approach in many aspects of its design, and this approach has paid off nicely. You will not find a bunch of extra buttons and components that tend to break and cost money. Everything in and on the Sierra 1500 has a purpose, whether it is to help you drive more safely or to drive on its own, there is no superfluous activity going on here.
The base level of the Sierra 1500 has a 4.3-liter, 6-cylinder engine with 285 horsepower and 305 pound-feet of torque. It can tow up to 7,600 pounds and reach a speed of 60 miles an hour in around eight seconds. Pretty impressive for a base-level engine. If you find the need for a little more power, GMC still has you covered with the 1500. Sierra drivers can opt for the 5.3-liter, V-8 engine, which offers 355 horsepower and 383 pound-feet of torque. And regardless of the engine size, all Sierra 1500s come with a tow/haul mode transmission and tap/shift controls. These controls make driving and distributing power much easier no matter the size of the load being carried.
Comfort and handling are exceptional in the Sierra 1500. There is the option for rear- or four-wheel drive, and the front strut and rear leaf-spring suspension offers an extra smooth ride no matter how many wheels are pushing you along. But, to truly understand the effect of the leaf-spring suspension you need to take the 1500 for a drive, preferably on a rough road or rigid path. You will be amazed at how well the suspension takes any pothole or bump and translates it as smooth, easy driving. In addition to an undisturbed ride, 1500 drivers will enjoy the crisp steering that allows the Sierra to easily make its way around sharp corners and fit into tight spaces.
Every aspect of the Sierra synthesizes together to create a powerful and luxurious driving experience. It's not only the drive components providing a comfortable ride either. Inside the roomy cabin, the Sierra 1500 is filled with soft materials and pleasing aesthetics. The aluminum and wood trim pieces throughout the inside give a sense of luxury, while the plush seats and polished dash create a comfortable, happy environment.
The Sierra 1500 is surprisingly tough and pleasantly high-end. It offers superior comfort and power for being considered a light-duty truck. This is a perfect choice for the truck driver who needs something tough but doesn't quite need a machine to pull super heavy loads on a daily basis.
Our Favorite Features of the Sierra 1500
At Liberty Buick GMC, we love the new Sierra. Its boxy frame is offset by subtle curves running the length of the long truck. The large, shiny grille seems to point from the sides to the crystal clear LED headlights. Plus, it comes in 11 different colors:
• Cardinal Red
• Onyx Black
• Quicksilver Metallic
• Summit White
• Satin Steel Metallic
• Pacific Blue Metallic
• Dark Sky Metallic
• Ebony Twilight Metallic
Inside the Sierra, we love the jet black materials, aluminum and wood accents throughout, the perforated leather seats. To keep you and your loved ones cozy and safe there are integrated storage bins set throughout, a Multi-color 3-inch by 7-inch Head-Up Display, USB ports, and plenty more surprises to keep everyone happy on long or short road trips.
The choice is easy. If you need a truck and are keen on the idea of your truck doing a bit of the driving for you, the GMC Sierra 1500 is the absolute best option. 2022 is right around the corner and we are sure to have a lot full of Super Cruisers waiting for you to drive. Visit Liberty Buick GMC to test drive your new truck today!