2022 GMC Hummer EV: Coolest Features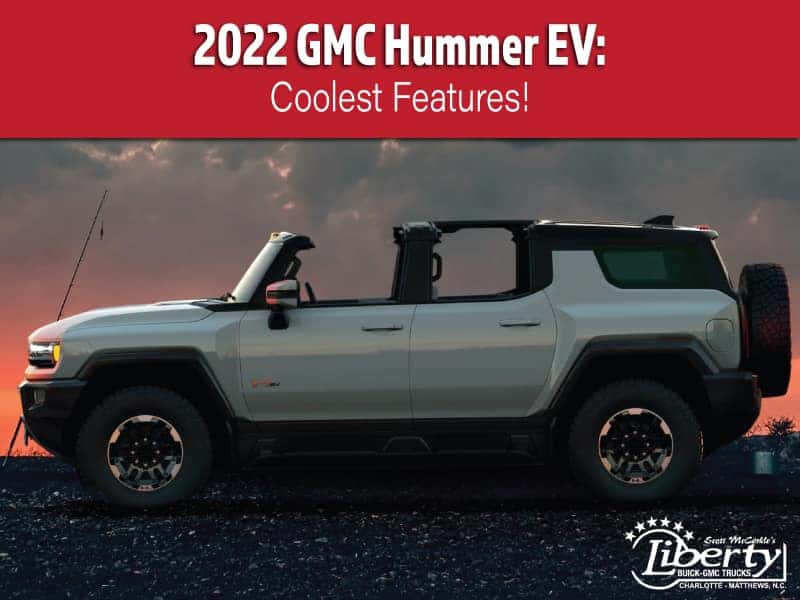 Complete prototypes of the 2022 Hummer EV are just now being built, but the non-running models that are available for inspection are out and they're quite impressive. Every trim level of the all-new Hummer EV is inviting and futuristic, and we just can't wait to step inside and fire one up! Until then, check out these updates on the 2022 GMC Hummer EV. 
What We Know 
Since last winter we have been gradually gathering information on the forthcoming electric Hummer EV and each month we get a little more excited. When the Hummer EV plays, it plays hard. With a wide body, specifically made to handle off-roading conditions, and a brute force that can push through mud and snow and just about anything you can throw at it, it's difficult not to be impressed with it. 
To say the least, drivers will be very happy with what GM has managed to pack into the new electric Hummer. Here are just a few important specs—surely there will be more to come soon:
Though Hummers were not made to venture on the moon, there is a clear moon theme happening with the Hummer EV. When GM went from the sketch pad to the production line in just two years with the new Hummer EV—it usually takes close to five years for something like this to happen—the quick turnaround in production was likened to the "moon shot," a promise from President Kennedy to the US that we would put a human on the moon within nine years. Both situations contained a troublesome time crunch, but nothing to stand in the way of American ingenuity. 
This dedication to innovation is plastered all over the new Hummer by way of "easter eggs" (precisely placed symbols such as the Hummer "H," and many nods to space exploration). For example, the rear fender to the 2022 Hummer protrudes, as does the lower crossbar, which creates a not-so-obvious "H." There is also a map of the Sea of Tranquility, first documented during the Apollo 11 landing, located on the speakers; and, under the driver's-side carpet near the foot pedals, there is an imprint of Neil Armstrong's moon boot. There are more, but we don't want to ruin all the fun of finding them!
Even though it is big, the Hummer EV truck can move. Reports state it can go from 0-60 miles per hour in three seconds. It also has one of the fastest charging systems out so most of your time is spent on the road or off the road.
Let's not forget that the Hummer EV will be powered by GM's own Ultium batteries and Ultium Drive. These drive units give the vehicle major off-roading capabilities, in terms of power, which is a big part of the new Hummer's lure—it's tough and it likes to get dirty. The Hummer has truly been reborn to exemplify power and size without guzzling the gas—oh, and it produces zero emissions!
The vehicle has an "H" design distinctively placed inside and out (rear fender), and it has a host of advanced technology such as hands-free driving and the "crab walk," which is a setting that allows the wheels to turn diagonally so the Hummer can quickly and easily get in and out of tight spaces. 
When creating the Hummer EV, a strong focus was on the architecture of the machine. It does have a futuristic-spacy vibe to it, but there's more. It's also sophisticated with its squinted, long headlights and its sleek long body. It's good to see Hummer still rolls with stoicism, this time a bit updated and a little cooler. 
Every Hummer EV Edition 1 will be "identically appointed" and "fully equipped," according to GM. All models will feature a white exterior and Lunar Horizon inside, along with special stitching and other undisclosed features. Made for off-roading to the extreme.
Here are a few more specifics: 
Super Cruise capability and three years of service

Ultra Vision with High Definition Surround Vision

A Digital Key

35-inch specialty tires

An Infinity Roof

Power rear drop glass

Six-function MultiPro Tailgate, much the same as the GMC Sierra 

Has a removable top (not quite a T-top, but most of the ceiling does come out)
Reserving the New Hummer EV
Presently, the new Hummer EVs are being rigorously tested and evaluated before GM engineers take them to northern Michigan to test out their winter endurance in the coming months. It's clear GM is holding nothing back with its new baby. 
Though current reservations for the Hummer Edition 1 are full, other trim levels are still available. Simply go to the GMC website, choose your preferred trim, provide the necessary information, and complete the reservation agreement. It's that easy. And for those of us too excited about driving an electric Hummer, our time will come. Stay in touch with Liberty Buick GMC for all the updates on the 2022 GMC Hummer EV.