2021 GMC Acadia vs. 2021 Ford Explorer: What's the Better Buy?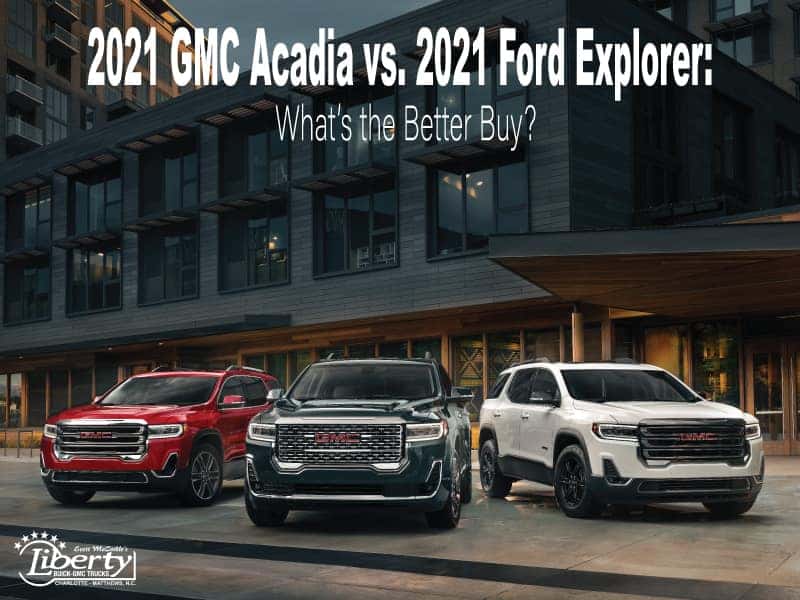 Midsize SUVs make up one of the most burgeoning automobile segments in the United States. In many ways, they are ideal for families: Among other qualities, the best SUVs provide the space, comfort, and technology necessary for enjoyable road trips and daily commutes with several passengers. They also serve utilitarian purposes well, such as transporting cargo and maintaining composure off the beaten path.  
Consequently, the midsize SUV class is also one of the most versatile in terms of options. New models are continually cropping up, upgrades are being made each year, and competition is fierce. That said, we've outlined some key features and differences of two popular midsize SUVs: the 2021 GMC Acadia and the 2021 Ford Explorer. Here is some information to help you on your journey to finding the perfect vehicle: 
NEW FOR 2021  
Every year, most vehicles are given at least a few upgrades by manufacturers. Let's take a look at some of the changes that have been made to the GMC Acadia and Ford Explorer for the 2021 model year: 
2021 GMC Acadia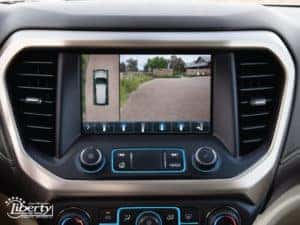 Handsome as always, the 2021 GMC Acadia comes with a few all-new packaging upgrades worth mentioning. For example, the SLT, AT4, and Denali trims now come standard with lots of driver-assist features via the Pro Safety Plus Package. The Premium Package now includes a heated steering wheel for buyers of the SLT and AT4, and these trims now offer a 360-degree camera system and head-up display as well (via the Technology Package). Moreover, the Elevation Edition Package is an option for the SLE and SLT, which includes subtly-tough black accents on the exterior and 20-inch wheels.  
Another notable change to the 2021 Acadia is that second-row captain's chairs now come standard on every trim but the SL. And there are three new exterior colors available: Hunter Metallic, Midnight Blue Metallic, and Cayenne Red Tintcoat. 
2021 Ford Explorer 
The Ford Explorer lineup has also undergone some changes in 2021. For instance, the XLT trim now comes standard with heated seats and the option for a heated steering wheel. This trim also offers a Sport Appearance Package that includes 20-inch Carbonized Gray aluminum wheels, a mesh grille with Carbonized Gray accents, Light Slate upholstery, faux skid plates, special lower-body cladding, and dual exhaust outlets.  
Additionally, the Explorer XLT, Limited, and ST can now be had with a cargo organizer, which comes standard on the Platinum trim. And the Limited, ST, and Platinum trims receive an eight-way power-adjustable front passenger's seat.  
INTERIOR COMFORT AND QUALITY  
Both the 2021 GMC Acadia and 2021 Ford Explorer are comfortable vehicles for drivers and passengers; it's clear that this was a priority for the manufacturers. The two vehicles offer comparable head and legroom in the rear seats, while the Explorer offers a little more room for the driver and front passenger. However, the Acadia offers nicer cabin materials, making it feel closer to a luxury vehicle than its counterpart.  
2021 GMC Acadia  
The Explorer may be slightly roomier in the front seats, but comfort is not an issue in the Acadia for taller drivers and front passengers. The same goes for passengers in the second row of seats, even with the bench seat. As with most midsize SUVs, the third row of the Acadia is best suited for children and smaller adults, though there is enough space for larger adults to ride comfortably for short distances. There are 12.8 cubic feet of cargo space behind the rear seats and 41.7 cubic feet when the third row is folded down. If you fold both the third row and second row, it gives you 79 cubic feet for cargo.  
The 2021 Acadia has one of the best-looking cabins in its class. It's simple. It's well-designed. It offers premium materials that don't feel like they're going to break if you look at them the wrong way. And the seats are as comfortable as they are attractive. All and all, the Acadia feels more expensive than it is.  
2021 Ford Explorer 
Cargo space abounds in the Explorer. Behind the third row, you get 18.2 cubic feet of space, while folding down the seat bumps it up to 47.9 cubic feet. When folding down the second and third rows, it provides 87.8 cubic feet. As previously mentioned, the Explorer offers plenty of room for the driver and front passenger. And the second row offers average comfort for passengers, though they could provide more support.   
The Acadia's interior is superior to that of the Explorer. It's not the worst in class or anything, but the Explorer's cabin lacks many of the nice materials found in its competitors. In short, an attractive interior design is overshadowed by a barrage of hard plastics.  
INFOTAINMENT/CONNECTIVITY  
It's 2021, so you can expect most vehicles to come with some pretty impressive tech features. That's not to say that all midsize SUVs are created equally in this department, however. Let's take a quick look at what the 2021 Acadia and 2021 Explorer have to offer in terms of infotainment and connectivity:  
2021 GMC Acadia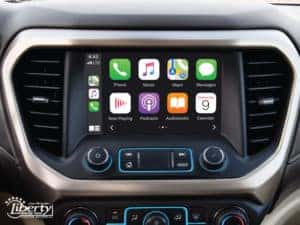 GMC's infotainment system is one of the most intuitive on the market. And you don't have to worry about getting used to it; it's easy to use from the get-go. Not only is the touchscreen easy to see and reach from the Acadia's front seats, but it also responds promptly to commands and inputs. And Apple CarPlay and Android Auto come standard on all models, so you can easily integrate your devices.  
Other standard tech features in the Acadia include: 
An eight-inch touchscreen 

Satellite radio 

Bluetooth 

A Wi-Fi hotspot 

A six-speaker sound system 

Five USB ports 
You can also opt for several features, including navigation, HD Radio, wireless charging, an eight-speaker Bose sound system, and a rear-seat entertainment setup.  
2021 Ford Explorer 
The Ford Explorer comes with its fair share of tech and connectivity goodies as well. Apple CarPlay and Android comes standard, as does an eight-inch touchscreen, satellite radio, a Wi-Fi hotspot, a six-speaker sound system, and four USB ports.  
Through upgrades, you can get a 10.1-inch vertical touchscreen, though this screen has been criticized for its lack of usability. Wireless charging, a 14-speaker Bang & Olufsen sound system, and a rear-seat entertainment setup are also available. Perhaps one of the most attractive tech features offered by the Explorer is the optional 12.3-inch customizable driver display. 
PERFORMANCE 
Performance doesn't just refer to muscle cars and big trucks. It's a critical element of any vehicle and should be thoughtfully considered when determining which SUV to buy. The 2021 GMC Acadia and 2021 Ford Explorer are starkly different in this regard. In short, the Acadia is the more fuel-efficient option, and it offers the most comfortable drive overall. The Explorer, on the other hand, is geared more toward the power-hungry driver. Here are some details: 
2021 GMC Acadia  
There are three different engines available on the Acadia: the standard four-cylinder that produces 193 horsepower, a turbocharged four-cylinder (230 hp), and a V-6 (310 hp). All engines are matched with a nine-speed automatic transmission. If you primarily need the SUV for daily commutes around town, the base engine is suitable. But the optional engines are ideal if you want quicker acceleration and/or you drive on the interstate often.  
The 2021 Acadia is a smooth ride, even on rough pavement. And when it comes to the midsize SUV segment, it's about as easy as it gets to maneuver in parking lots and other tight spaces. Moreover, you don't have to worry about the body leaning around bends.  
The Acadia is in the top echelon of its class as far as fuel efficiency goes. The best ratings come with the turbocharged four-cylinder at 22/29 mpg city/highway. The base engine provides 21/27 mpg while the V-6 is rated at 19/27 mpg.  
2021 Ford Explorer 
Like the Acadia, the 2021 Explorer comes with three engine options. The base engine is a turbocharged four-cylinder that pushes 300 hp. There are two optional twin-turbocharged V-6 engines; one produces 365 hp, the other 400 hp. A 10-speed automatic transmission pairs with each engine. This transmission performs quite smoothly overall, but its reaction time could be better. The base engine feels more potent than several other base engines in the class, and the 400-hp twin-turbo V-6 engine is quite impressive.  
If you're looking for a smooth, easy ride, the Explorer is not your best option. It provides sharp steering and handles well enough, but it comes with a soft suspension that leaves you feeling more bumps in the road and more body movement around turns than one would hope. And of course, you'll pay for the powerful engines at the gas pump. While the base engine rates at 21 mpg city and 28 mpg highway, the twin-turbo only provides 18/26 mpg city/highway.  
SAFETY 
This is one of the most important categories to consider when purchasing a vehicle, especially if you're going to be toting around your family. Both the 2021 Acadia and 2021 Explorer are generally safe SUVs, though the Acadia has a slight advantage when it comes to available safety features.  
2021 GMC Acadia 
The 2021 Acadia received five of five stars from the National Highway Traffic Safety Administration (NHTSA), as well as a rating of Good from the Insurance Institute for Highway Safety (IIHS). Lots of safety features come standard, such as a rearview camera, rear parking sensors, rear cross-traffic alert, and blind-spot monitoring with lane change alert. Exclusive to GMC is the Teen Driver feature, which allows you to program sound volume, maximum speed, and other things for the young driver in your household. Additionally, there's a wealth of safety upgrades available on the Acadia.  
2021 Ford Explorer 
The 2021 Explorer also earned five stars from NHTSA and a Good rating from IIHS. It comes standard with blind-spot monitoring, forward collision warning, automatic emergency braking, and pedestrian detection, among other features. It has plenty of other safety features available, but you'll have to pay good money for most of them.  
COSTS  
All and all, the Ford Explorer is a little more expensive than the GMC Acadia. The base Explorer model starts at around $33,000, which is a higher starting price than many of its competitors. The highest-level trim, the Platinum, begins at $59,000. The base Acadia, on the other hand, comes in at about $29,800, and the top-tier Denali trim starts at around $46,300. In other words, the Acadia is a much better value. 
The Bottom Line  
By purchasing a midsize SUV, you will get versatility not provided by other types of vehicles, which is why more and more SUVs of this size are selling. This is also why they make up one of the most crowded segments in the industry. The GMC Acadia and Ford Explorer are both legitimate SUVs, and it really comes down to what you're looking for from your vehicle.  
The Acadia generally offers more for the money, and it's the better option if smooth driving and interior comfort and quality are your priorities. The Ford Explorer is the more powerful SUV, but you pay for that power in several ways. If you would like to get a firsthand look at the 2021 Acadia, let's set up a test drive at Liberty Buick GMC!