2018 Buick Regal: The Surprising Equivalent to a Family Station Wagon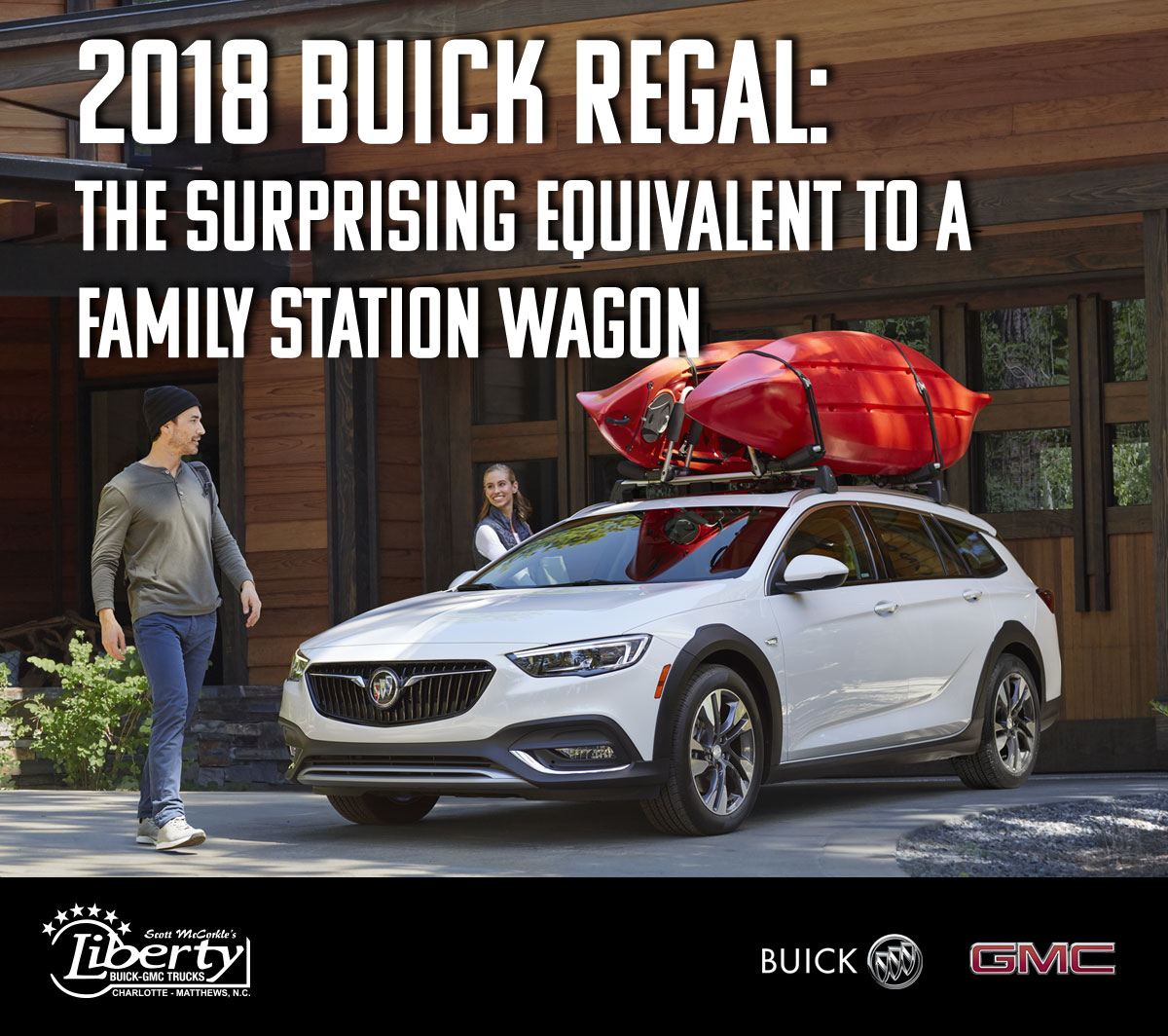 Though the classic station wagon has never truly disappeared, this year it arrives with a new look and impressive features. The all-new 2018 Buick Regal now comes as a luxury station wagon, and it is every bit as good as it sounds. Erase that image of a clunky, massive hunk of metal sputtering down the road and stop over and see us at Liberty Buick GMC today to test drive the newly refined and modernized Buick Regal wagon.
Some of us can still remember those long family road trips in the old station wagon. There was that third-row seating that faced backwards, which seemed to expedite car sickness as the lucky back-seat passenger watched the road and telephone poles move in the opposite direction. The wagons of old were huge metal boxes, built like tanks, that seemed to last forever. They may have been ugly clunkers, but they were roomy and comfortable and low enough to the ground that it was easy to get in and out. The innovators at Buick remember what it was like riding in the family wagon. This is why they decided to recreate it in a way that capitalizes on the good aspects and eliminates those less desirable ones. No more bulky mess with drab interior. This year, Buick is proud to introduce the 2018 Regal wagon, and at Liberty Buick GMC we have plenty in all sorts of colors and trims for you to choose from.
2018 Buick Regal Specs
Starting at only $29,070 the all-new Regal wagon has plenty to offer. For one, it saves you money by cutting back on trips to the gas station. 21 miles-per-gallon in the city and 29 highway keep cash in your pocket and allow for longer ride times. Add in the fact the 2018 Regal wagon comfortably seats five passengers, and has over 73 cubic feet of storage space, and it's already pretty appealing. That's not all though, not even close. Buick went all out for the 2018 Regal wagon. Here are a few more highlights: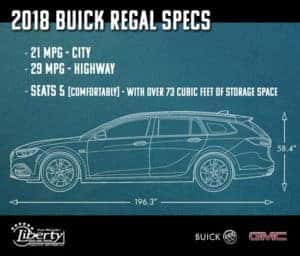 It comes in eight premium exterior colors-
Summit White
Sport Red
Ebony Twilight Metallic
Quicksilver Metallic
Smoked Pearl Metallic
Dark Moon Blue Metallic
Rioja Red Metallic
White Frost Tricoat
It is offered in three different trim levels-
TOURX: priced at $29,070 and comes with a 2.0-liter Turbo Engine along with Start/Stop Technology. It has an active twin clutch and intelligent all-wheel-drive. Sits on 18-inch aluminum wheels, and comes with Buick's QuietTuning Technology to keep your drive extra quiet.
PREFERED: this trim level begins at $32,670 and offers the same features as the TOURX, plus a few extras. There's an auto-dimming interior rearview mirror. A leather-wrapped steering wheel, and an 8-way power driver seat with 2-way power lumbar.
ESSENCE: this is the Regal wagon's top level and it begins at $35,070. It comes with all the features of the PREFERED, but adds a few extras, like leather-appointed seating and a heated, leather-wrapped steering wheel. It also has a 40/20/40 split-folding rear seat to give you some extra stowage space.
Interior
Inside the 2018 Buick Regal there are soft-touch surfaces and premium materials throughout, making this wagon the most modern and luxurious in its class. Let's have a closer look: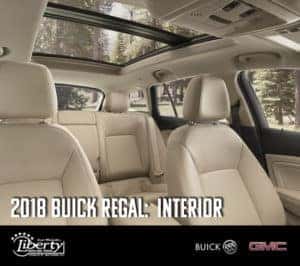 The rear seats can fold 60/40 or 40/20/40, which enables passengers to arrange storage space in a variety of ways. Up front and directly behind there is more than enough room to stretch and relax and just enjoy the ultra-smooth ride.
The QuietTuning technology incorporates acoustic laminated front, side, and windshield glass, triple door sealing, and innovative suspension tuning to block out exterior noise.
There is dual-zone climate control that automatically keeps two separate temperatures, one on the driver's side and the other for the passenger. These temps can be preset or changed at any time.
To top it off, the 2018 Buick Regal wagon has excellent sound with Bose Premium Audio, which has been modernized for seamless connectivity and performance.
Exterior
The 2018 Buick Regal has a unique look. It resembles something of a low-sitting luxury sports car rather than what comes to mind when the word "wagon" is thrown around. Its rugged styling and sleek line-work, combined with multiple exterior features, scream adventure. Here are a few highlights: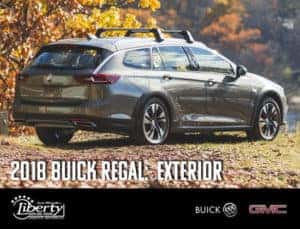 The sturdy, yet lightweight, aluminum roof rails and cross bars make it simple to attach and carry anything from bicycles, to kayaks, to luggage. This wonderful feature opens up even more space inside, allowing for more passengers or even more room for gear.
The hands-free power liftgate comes with an LED sensor that reflects on the ground so you can see exactly where to hover your foot. Then, watch the back hatch open and close on its own. This makes grocery shopping and kid carrying so much easier and fun.
Signature LED headlights come with auto-leveling technology, an advanced system to keep the path in front of you always perfectly lit. There are also fog lights and the new Arrival Sequence, which lights up the car as you approach (this is a great safety feature for those nights when you have to walk to your car alone. Just hit a button and the lights turn on).
The combination of a push-button start and keyless entry keeps you, well…keyless. No bundle of keys to keep up with, to lose or forget. Now, it's just buttons to be pushed and you are on your way. It does not get more modern than this.
If you are still not convinced Buick's modern station wagon is the perfect car for you, here are five quick reasons to come test drive a 2018 Buick Regal today:
When cruising around in the 2018 Buick Regal it can be difficult to tell if you're driving a sports car, crossover, or luxury sedan. The Regal wagon can haul, hustle, or just look good.
Though the Regal wagon is long, it is also lean. Not only that, it sits low. All this equates to easy loading and unloading, plus compact parking and swift maneuverability.
Fuel Economy. The all-new Regal offers sporty driving, the room of a minivan or SUV, and yet somehow still saves you money at the pump. Leave it to Buick to crack the code and create a car that has it all.
The wide wheelbase and broad posture make taking tight corners a breeze in the 2018 Regal. Throw in all-wheel-drive and you might as well get some friends together and go mudding out on your favorite trail.
One of the most impressive aspects to the 2018 Buick Regal is its look. Arguably, Buick has never made such a modern looking vehicle. The sharp front-end, the impressive line work, even the colorful, yet tasteful Buick emblem in the grille, it all looks authentically luxurious.
It has arrived. The modern station wagon, full of grit and surprises, is ready to hit the road. Don't waste time deciding between something too big and expensive or another classless car when you can save money on something luxurious and unique. Come see us at Liberty Buick GMC Trucks today and test drive America's new station wagon.
-Andrae Bergeron