2018 Brings The Classic Buick Regal Back With A Spin In Three New Models: The Top 5 Features On Each Buick Regal
Liberty Buick GMC is fired-up about the All-New- 2018 Buick Regal vehicles. The 2018 Buick Regal is riding in with a bang, with not just one remodeled vehicle, but three brand new 2018 Buick Regal vehicles. The three latest models incorporate innovative designs and styles that will appeal to many different tastes. Summer is coming to a close and the all-new Buick vehicles will be on the lot and ready to take for a spin before you know it.
The three new Buick Regal vehicles come in different shapes, styles, designs, and performance capabilities. The Buick Regal introduces two fresh sporty vehicles and a first-ever wagon-style car. For those who are sports junkies, to speed lovers, and adventure-getters, Buick has developed three vehicles that are certain to catch your fancy.
The Buick Regal TourX
The wagon style is in for 2018 and ready to make a statement! For the upcoming new year, Buick is kicking off with the first-ever 2018 Buick Regal TourX. While it may sound strange that station wagons are back after the influx of sports vehicles and minivans, the Regal TourX is changing any outdated perceptions that station wagons are uncool. By updating the suburbanite legend into a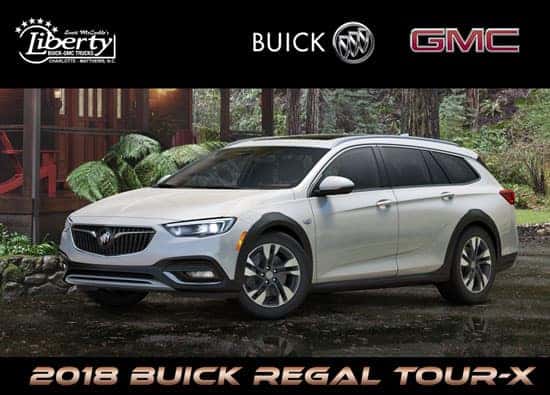 luxury retro vehicle in 2018, Buick is eager and sure to please loyal wagon fans and introduce the millennial generation to the charm and nostalgia of the station wagon phenomena.
The 2018 Buick Regal TourX is anticipated to hit Liberty Buick GMC's showroom next year with high market interest, as its completely new model released by Buick. This station wagon is definitely a one of a kind and is ready to compete with other roomy, family vehicles on the market. The Regal TourX changes the face of Buick with a sleek and elegant look of a car designed for adventure and road-trips. From the bold exterior of a station wagon to key Buick features like the roof and cross rails above the vehicle, this new design has competitors blown away! The novelty of the station wagon combined with the exterior of this never-before-seen Buick is what makes the TourX so daring. Key features include:
The Body Style – The body style of the new Buick differs from other Buick models. It's a station wagon with a front engine, all-wheel drive, and measures up at 196.3 inches long, significantly larger than other station wagons on the market. This vehicle is giving key competitors like the Audi A4, Volvo V60, and BMW 3 a run for their money!
Distinctive Wheels – The standard 18-inch aluminum wheels are designed for both style and effectiveness. They provide a high and low contrast that makes them a great fit. No matter what vehicle color you choose, the wheels will stand out.
Hands-Free Liftgate – The hands-free liftgate makes it easy to load, unload, and access gear even when you are busy and your hands are full. To open the liftgate, just wave your foot under the door. To make this even easier, the Buick has a tri-shield logo that illuminates the ground below the sensor.
Cargo Space – A big selling point of the Regal TourX will be the generous storage in the wagon, where there is 33 cubic feet of space behind the rear seats, making it just as spacious as small SUVs. And if you're in need of even more space, folding the rear seats down will up the storage to 74 cubic feet of space.
Roof and Cross Rails – Since this Buick is designed for adventures, it comes standard with roof rails. The roof rails make it easy to travel with bikes, a travel carrier, kayaks, and other larger items.
Signature Headlights – The 2018 Buick Regal TourX is equipped with signature Buick headlights, standard with LED lights and auto-leveling technology. This technology helps enhance visibility while on the road. The vehicle also has an attention-grabbing arrival sequence to shine when you exit the vehicle.
The Buick Regal GS
The Buick Regal GS puts a sporty twist on the original vehicle that increases its excellent performance and dramatic design. With an improved transmission and 51 horsepower more than the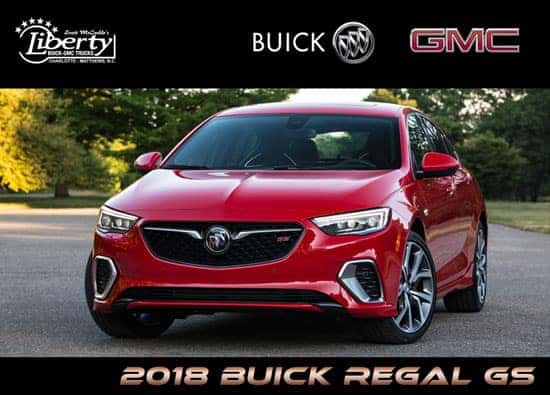 previous model, the Regal GS is all about dynamic performance; its race-inspired design creates a thrilling, smooth ride that will take everyday commutes to the next level. The top five features include:
Intelligent All Wheel Drive – The GS comes standard with the intelligent AWD technology. This includes a dynamic twin-clutch to provide peace of mind for undesirable road conditions and also provides torque and acceleration to keep every ride meeting your consistently high-performance expectations from Buick vehicles.
GS Exclusive Performance Seats – These high-functioning seats combine luxurious comforts with a sporty design. Not only allowing the driver and front passenger to enjoy massaging, heated, and ventilated seats, the seats can also be adjusted to personal comfort preferences by tweaking the side bolsters, four-way lumbar support, and extendable thigh support.
The Engine – The Buick Regal GS has a 3.6-liter V6 engine with 310 horsepower. This engine provides power to make every drive exciting. With improved vehicle control and nine-speed automatic transmission, the V6 engine provides efficient and refined performance.
Sport-Injected Chassis – This feature provides an excellent, urban sport design that creates outstanding performance. The vehicle is designed with a lower center of gravity to make turns smooth and quick. Entertaining, sports-focused and highly responsive to the driver, the GS does not sacrifice performance for design at all.
Sportback Opening – The trunk is designed with sportback rear access that opens up to a large space. The vehicle also has the option to fold down the back row of seats for an increased cargo area.
The 2018 Buick Regal Sportback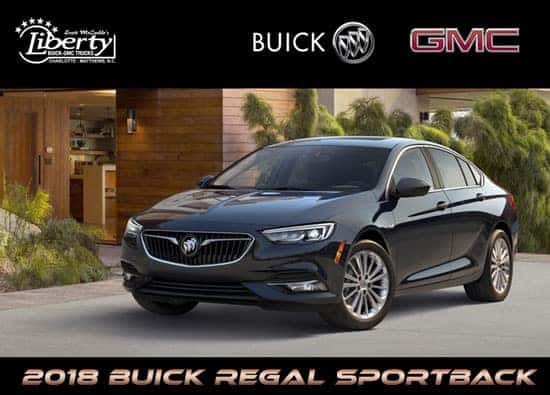 The All-New Buick Regal Sportback is just like the beloved Buick Regal, but with even more awe-inspiring innovative features. If you liked the 2017 Buick Regal, you will fall in love with the 2018 Buick Regal Sportback. Top aspects of the vehicle include:
Quiet-tuning Technology – Enjoying a quiet ride in a family vehicle may seem rhetorical, but the Sportback allows you to do just that. With noise cancellation blocking out road noise, you and your passengers will be able to have pleasant conversations and enjoy the drive. Moreso, the noise cancellation will prevent unwanted modification of how sound and music comes through your vehicle's speakers, enabling your drive to have clear sound when you want it.
Turbo Engine – The 2.0 liter 4-cylinder turbocharged engine is designed to help you achieve the perfect combination of power and efficiency. The engine delivers excellent performance that will not disappoint with up to 250 horsepower.
Advanced Transmissions – There are two excellent transmissions available in the Sportback. The FWD model has a 9-speed Automatic Transmission and the AWD has an 8-speed Automatic Transmission. Each option allows for unique riding experiences.
Built-in Wi-Fi – The option to have access to all of your electronic devices through Wi-Fi is available with the OnStar 4G LTE Wi-Fi hotspot. You can connect up to 7 devices to the hotspot at any time. Wi-Fi access is a great way to keep your passengers entertained and happy during road trips.
The Look – The all-new Buick Regal Sportback has a sophisticated exterior design. The new design is elegant and bold with chrome accents, dual-exhaust chrome tailpipes, and dynamic sculptural lines.
With 2017 flying by, you will be looking forward to 2018 for when these highly anticipated and unique Buick Regal vehicles enter Liberty Buick GMC's lot. Give Liberty a call today at (866) 442-0871 to learn more about each model and find out their arrival dates.