1952 Buick "Bombshell Betty"
Liberty Buick GMC admires this one of a kind Buick that can hit record speeds. The 1952 Buick Super Riviera has achieved six land speed records and has reached a total record breaking speed of 165.735 miles per hour. This speedy little Buick has been nicknamed, Bombshell Betty.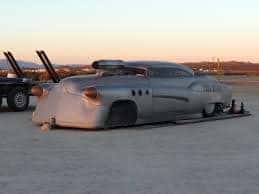 Bombshell Betty is an attention-grabbing car that can be spotted from miles away. The vehicle has been extremely modified. The vehicle is massive and weighs roughly 3,800 pounds and is 17 feet in length. The vehicle design resembles a sliver bullet. Beneath the bold exterior design, the vehicle has 320-cubic inch, straight-eight engine that came from a 1950 Roadmaster. This high-functioning vehicle has 340- horsepower engine and a four-speed manual transmission.
This speedy bullet comes with a pretty price. The vehicle sold in 2016 for $36,300 and was recently placed back on the market for a bigger price. The vehicle is now for sale with a price tag of a whopping $96,900.
Buick vehicles have been around for quite some time. The beginning of Buick vehicles started in 1903 and has made tremendous growth in the automotive industry. In the past 100 years, Buick has transformed from small sedans to luxurious sporty vehicle and top of the line crossovers. Liberty Buick GMC takes pride in how far Buick vehicles have come and the fancy new crossover models. The 2017 Buick Envision is one of Liberty's best-selling Buick SUVs. With its luxurious and spacious interior, stylish and bold exterior, and its family oriented opposition, the Buick Envision has made its mark against other top SUVs.
While you won't find Bombshell Betty on Liberty Buick GMC's lot, there are several different Buick models that might strike your fancy. Liberty Buick GMC currently has tailgating specials on all trucks and crossover vehicles.  Visit Liberty Buick GMC to take a test drive in one of the luxurious Buick vehicles on the lot.